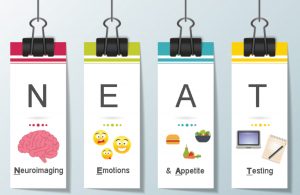 NEUROIMAGING, EMOTIONS, AND APPETITE TESTING STUDY
The NEAT Study is a joint effort between the Herting Laboratory as well as Dr. Mimi Kim and Dr. Mitch Geffner at the Division of Pediatric Endocrinology at Children's Hospital Los Angeles.
This study is interested in how prenatal hormones may impact the development of both emotional and food-related neurocircuitry in children.
---
Study Details:
Dr. Megan Herting and Dr. Mimi Kim are looking for healthy volunteers to participate in our brain and emotions study. As a participant, you will complete tests and questionnaires, we will take pictures of your brain and body through non-invasive MRI scans (no injections or radiation involved), and collect blood. Participants are asked to complete the study over 2 visits (Visit 1 at CHLA and Visit 2 at USC). Parents will also complete some questionnaires. Participants will also be given the option to wear a small device on the wrist that measures your activity levels for 7-10 days as well as keep a simple sleep/wake diary.
---
Who can participate?
Children ages 8 to 18 years may be eligible if he or she:
Has no metal in his or her body (for example: dental braces, or pins from surgery)
Does not have a neurological disorder
---
Compensation:
Up to $185 for you and your family
An additional $40 for completing the optional activity monitoring
Free Parking
A picture of your actual brain!
---
Questions?
T: (323) 442-8270
E: neat@usc.edu
*Weekend scheduling options may be available upon request*
For more information about this study, please visit the Children's Hospital Los Angeles Research Studies Site.